Public Transportation Vehicle Wash Systems
The importance of public transportation and municipalities to project a clean, professional image to increase ridership and improve vehicle life span has never been greater. Getting your fleet washed and back to servicing your riders is Westmatic's focus. And Westmatic's bus wash systems are incredibly efficient and versatile with the lowest life-cycle-cost of any machine on the market today. This is based on our reduced maintenance requirements and reduced consumables, such as water, power and chemicals.
Finding A Wash System That Meets Your Needs
If you're purchasing your first machine, replacing existing equipment, or building a new facility, our knowledgeable staff will work with you to determine the best equipment for your fleet. We routinely work alongside owners, architects and engineers to develop infrastructure requirements, utility requirements, and an equipment package that will handle your washing needs for many years to come.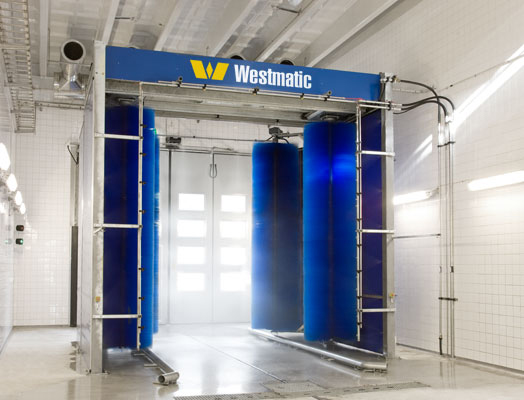 What You Need to Know
Public transit fleets with a demanding wash schedule (more than 30-40 buses per day) are a perfect fit for Westmatic's Drive-Through machine. The Drive-Through reduces wash cycle time to approximately 90 seconds per bus. Our drive-through machines are completely customizable, and available to operate with brushes, in a touchless mode, or with a combination of both.
Less Demanding Wash Schedules
Bus fleets with a less demanding wash schedule (less than 30-40 buses per day) are typically advised to choose a rollover or gantry machine. This style of machine directs the driver to pull into the wash bay and park. The machine begins to wash over the vehicle on a floor-mounted track system. Wash cycle time is approximately 5-6 minutes per bus.
Vehicle Wash System Options
Add these accessories to boost the cleaning power and cost management for your new Westmatic Wash System.
• Pre-Soak (Multiple steps available)
• High-Pressure Chassis Wash
• High-Pressure Wheel/Rocker Panel Wash
• Hi-Speed Rotating Nozzles
• Spot-Free Rinse/RO Systems
• Water Softener
• Water Recycling
• Water Purification
• Rinse Aid/Wax
• Dryers
• RFID Fleet Monitoring
• Point of Sale Systems
• Festoon Mounted Detail Wands
• Pressure Washers, Hot or Cold